Hey guys, Street Fighter 5 is on the horizon. The info, that I'm sure you all know, is that the game will feature 16 characters at release with 4 of those characters being new. Necalli, one of the newest characters was introduced a short time ago.
We've compiled ALL of the Street Fighter characters that have only appeared in 1 Street Fighter title. Mind you, all new characters in the recent Street Fighter 4 game is NOT INCLUDED. We used the original Street Fighter, Street Fighter Alpha & Street Fighter III characters, mainly because every character from Super Turbo has been in more than one Street Fighter title. STREET FIGHTER EX CHARACTERS ARE NOT INCLUDED AND THEY NEVER WILL BE...
SO, OUR QUESTION IS FOR YOU, THE FAN... With 9 characters already announced, 1 being a new character, what characters from this list should take the last 4 spots for the release date roster??
Mike
Lee
Geki
Retsu
Joe
R. Mika
Maki
Ingrid
Sodom
Juni & Juli
Karin






STREET FIGHTER III
Alex
Gill
Q
Necro
Oro
Remy
Sean
Twelve
Urien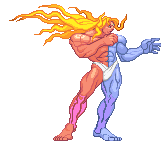 Personally, I choose Retsu & Mike from Street Fighter I, Maki from Street Fighter Alpha & Alex from Street Fighter III.