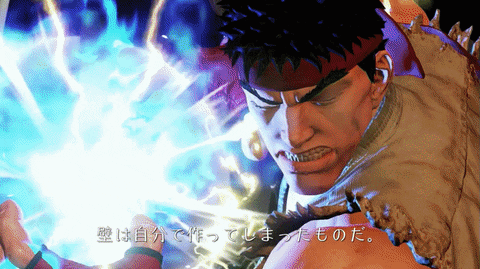 GIF SOURCE: Shoryuken
Even better than the cast is when do these events take place, before or after Street Fighter 3: Third Strike??? Inquiring minds want to know. Will Ono go with new & improved or complete nostalgia?
Shoryuken
reported that the current Street Fighter timeline goes in this order. Street Fighter 1, Street Fighter Alpha, Street Fighter 2, Street Fighter 4 & Street Fighter 3. I totally agree.
I've voiced by issues about the direction Ono is going in with the Street Fighter series. I also feel like this game, Street Fighter 5, should look better. I know we still have some time to go before release, but from what I see, it could be better, I mean it is on a next gen system. To dive in deeper, the original question is, Who's in this game & Who should be in this game?
I Have A Theory
I'm hoping that this game takes place after Third Strike. Look at what MKX did. The story advanced about 25 years. It has Nostalgia, with a crap load of new features and characters, and story mode is All Love. The concept was old with new, concentrating on more of the new. 8 new characters, 16 classic and 2 we haven't seen in a long time. I honestly would have went with half & half, but I ain't mad at all.
Here's what I came up with, Ono, PLEASE give us at least 8-10 NEW characters. Also keeping that nostalgic feel, here are the characters I would like to see in Street Fighter 5:
Sakura
Karin
Ingrid
Noembelu
With these 15 characters, plus 10 newbies, Street Fighter 5 could merge nostalgia with new swag. Do you agree?? Who do you want to see on Street Fighter 5?