The hottest and most talked about gadget now are tablets. We are now involved in a major war between powerful companies. With this war the major deciding factor for a winner will be determined from the percentage of market share own by the involved companies. Of course when we talk or think about tablets the "Triple As" come to mind first. Android, Apple and Amazon!
But..
This post is about the under dog! Amazon holds almost half of the tablet Android market share with its Kindle Fire line up. With that Barnes & Noble has step up their gain to offset and take most of the market share from Amazon. BN has just announced its new company NOOK Media LLC. and 2 new tablets to be released later this month.
NOOK HD & NOOK HD+
are very competitive devices with cutting edge tech. at very affordable prices.
Offering their 2 new tablets in 7-inches and 9-inches at starting prices of $199 & $269 they will be a steal this holiday. See specs below and you will see these are no cheap throw away tablets.
NOOK HD+: Starting $269
Lightest, Lowest-Priced Full HD 9" Tablet Ever
Amazing HD display for movies, mags & apps
The best tablet for families
Light, thin & super portable
Over 3 million books to browse
No annoying ads
Comes with free power adapter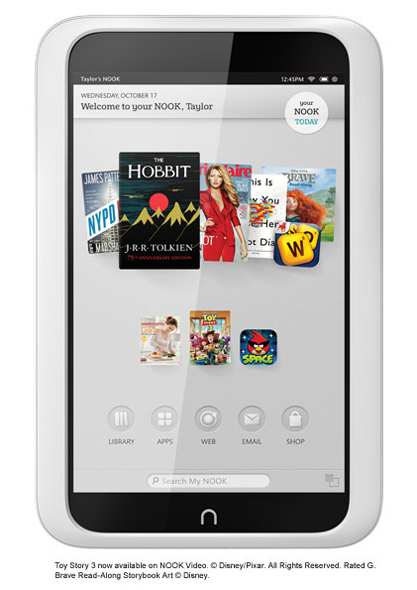 NOOK HD: Starting $199
Stunning display — lightest, highest resolution 7" HD tablet
The best tablet for families
Light, thin and super portable
Over 3 million books to browse
Tons of movies, magazines, apps & more
No annoying ads
Comes with free power adapter